Okay so, I am a little late getting this review done, but never right? Apricot Paws released their new Omega Paws called Feety Peets! Such an adorable name. Just like the Handy Paws you need the Omega Relay which is 99Linden, and you can buy that in store right on the same board as the Handy Paws and Feety Peets! The price for the Feety Peets are 497Linden.  As you can see below you can try the demo as well. If you don't want to visit inworld, you can also go to marketplace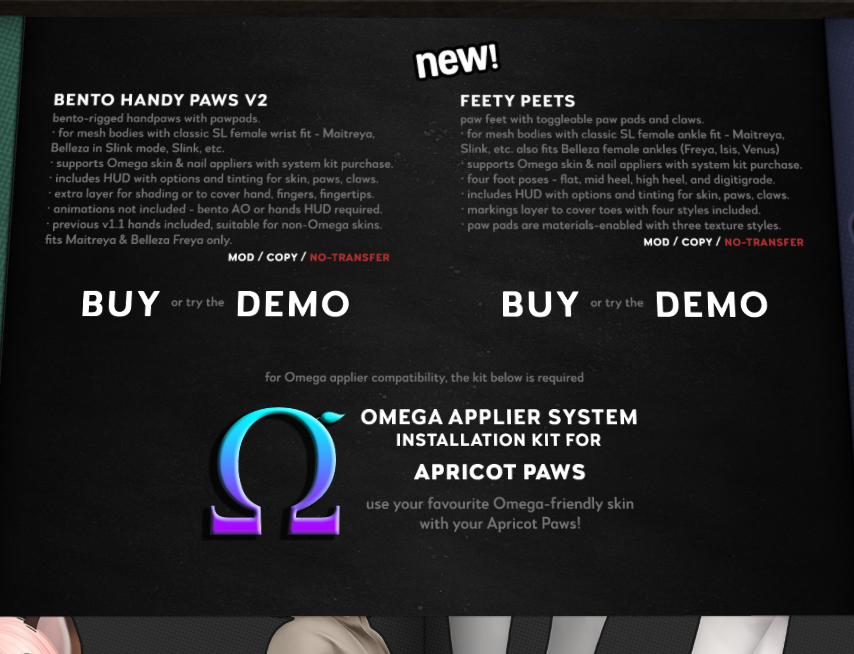 First off, I will hit you with something I don't like. When you first open the package do not be alarmed when you see that it's so many peets. My suggestions for an update or a next mod that Zii does is that please make it a hud. We're all spoiled to where everything is changeable on a hud now. There is not Kitten size, no Ballerina size. It's just basically basic peets. In the picture above that I took I am wearing flats. (Side note please ignore my folders, that's how I have it set up for my avatars)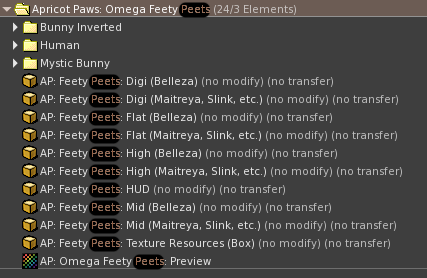 This is what the Hud looks like when you first put it on.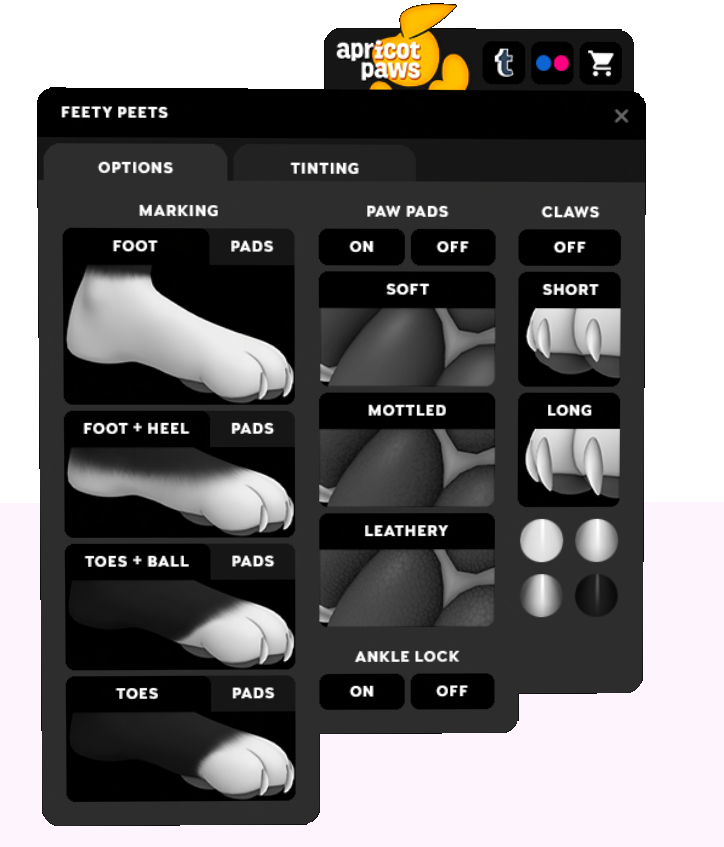 As you can see you can pick the paw pads on the foot to which texture you want, I particularly put my on Mottled. It's a in between of Leathery and soft. You have an ankle lock for photos, claws short and long. My personal preference mine are kept on short to me long is too long for my liking.
Here is what the color hud looks like what most should be familiar with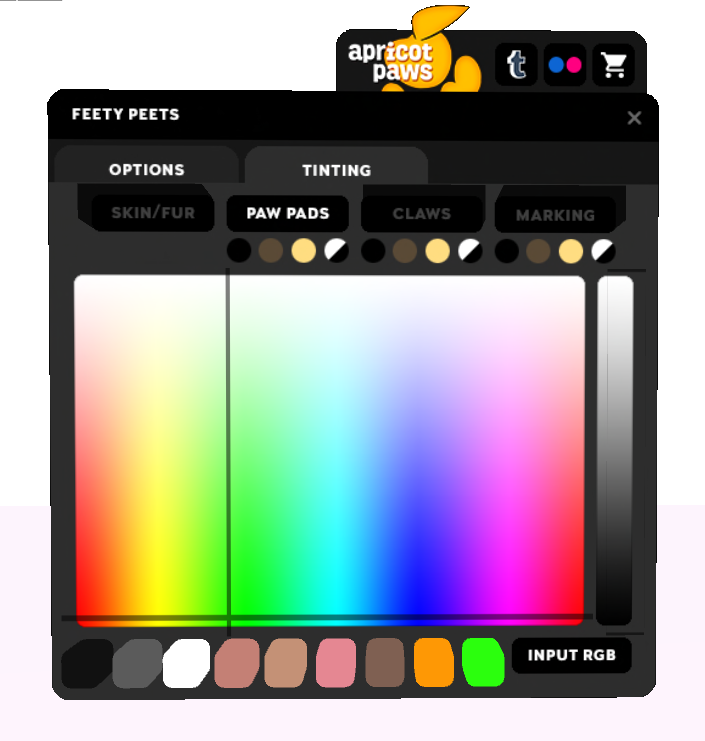 Moving on, below I took in-world snaps of how each marking and paw looks.
Rating: 4.1
Why I am giving it such a low score because even though it's high quality for us furs and well made and you can do all this special stuff. I don't want to have to separately attach them via inventory where I can just click it via hud like I do with my Slink & Maitreya feet. Almost everything is Hud based quick and easy and while I was taking these photos I went through and made sure that all my feety peets were the exact same so I don't have to change them ever. Only thing I would have to change would be the claw nail polish.
With the claws I wish it showed a bit more depth around the claw bed. Like a hint of pink or flesh to let you know that it's some claw nail bed or something instead of just kind of flat. Kind of look at your dogs claws and get a visual of what I'm talking about to understand.
Hair: Sn@tch – Harmony Hair [New]
Dress: Luas – Amber Corset Hourlgass Mauve
Body: Slink Hourglass
Paws: Apricot Paws – Feety Peets
Backdrop: MONS / 3D – Grass Wall Decor (V1)
Front Bunny: ::Axix:: BunnehTwins Bunny Curious
Back bunny: ::Axix:: BunnehTwins Bunny Shy
Cake: ::Axix:: BunnehTwins Cake
Cage: ::Axix:: BunnehTwins White Bunny Cage Pink
Cupcake: ::Axix:: BunnehTwins CupCakes
Right Bunny: ::Axix:: BunnehTwins Bunny Sleep
Books: ::Axix:: BunnehTwins Book Pile Pink