So I am so sorry it took me forever to blog this item. I was given to items to blog from Sinful Needs their latest bento mesh item; Kali Split Bento and Mara Bento tongue. They been tried on the Catwa bento mesh heads I advise you if you have a different mesh head to TRY THE DEMOS.
I preferred the Kali split tongue because it went better with my character overall appearance. What I mean overall appearance I mean her being a Zoanthrope. She is a mutant and has different aspects of being non human. Lets face it being human all the time is BOOORING.
The tongue comes in Small and Large. The Small is made more for female sizes and the large is made more for male. You have the full set and the no gauge set. In the photo above I'm wearing the Full set with the gauge.
Now let's talk about the HUD.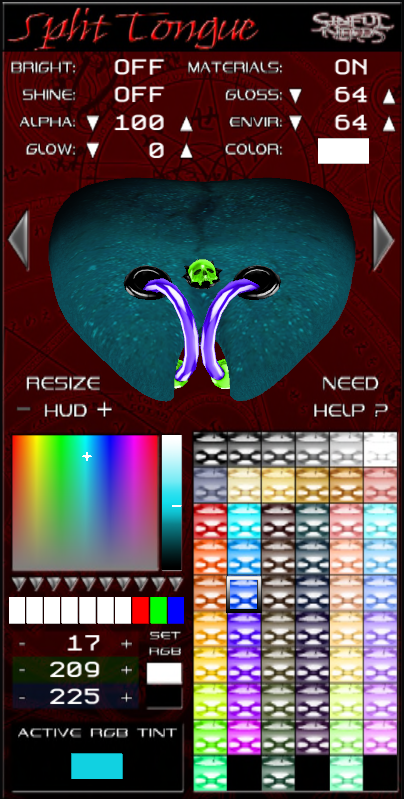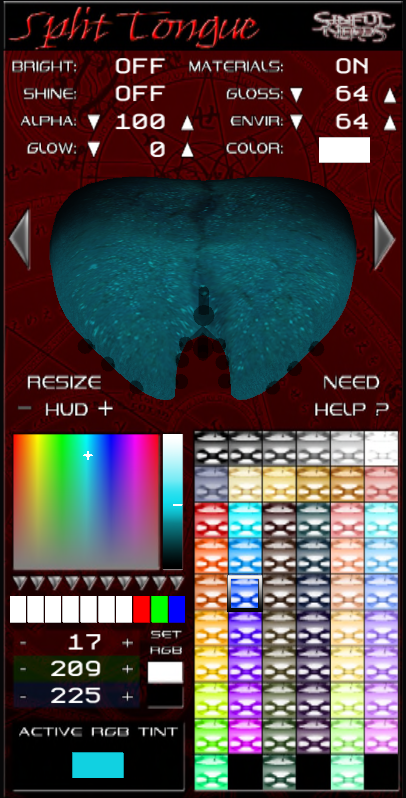 Looks like any other hud correct! Mhm! Now you're wondering WHY the second one has that black non attractive looking shadow on the tongue? Well those piercings are hidden.
You can hide the piercings you don't want?   YES!!!
Kodeine, how do you hide the piercings you don't want??  Well, you click on the piercing you don't want on the HUD and you hold it for  few seconds like 2. Maybe shorter I'll have to clock it, but trust me it's shorter. And you look in your mouth and it's hidden! It's not on your tongue! IT'S GONE!
But, How do I get it back?  Well you do the same thing! Click on the piercing and it's back!
Well, Kodeine I have another question. How do you get those pretty vibrant colors on the piercings and tongue??  That my dear reader is a good question and I am going to explain. The bottom half of the HUD is where you do all you're coloring. It's a click and select type hud. Pure simple. On you're HUD the tongue you select you're piercing and then click on one of the boxes believe or you can pick you're own color. I'm lazy so I picked a color from the boxes. I was a bit puzzled earlier and it took me a bit I was like how can I change my tongue?! That's when the RGB came in I just touched the ACTIVE RGB TINT and clicked my tongue and bam I got my tongue back to what it was on my Catwa head.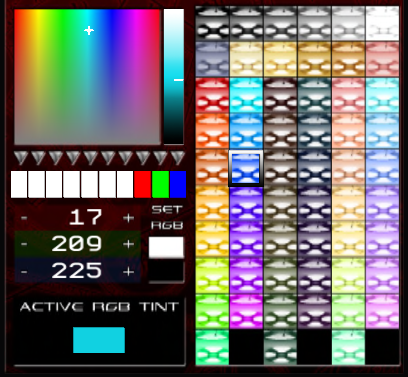 So Kodeine what do you think of this tongue? As a blogger I need all the attachments I can get, but it saved me money on not buying the Catwa tongue piercings big time. I like it very much so.  I didn't find a flaw or anything wrong with it. Which was a shocker. Normally I have to read the instructions on how to do everything but this was pretty much in your face that simple.
So if you're looking for a tongue that's different it's reasonably priced comes with a multi solution of selections then Get the Sinful Needs. I'm willing to give up the extra attachment point just to wear the tongue and I know some are like how can you wear up 38 attachment points. IT HAPPENS trust me.
Head: Catwa – Catya
Hair: Doe – Lilian – Two tones – Neons [New][@ Sanarae]
Skin: Lumae – Eirtae – Iscirra – Bare
Eyes: Nightmare – Phobia Set [Eyes Only]
Tongue: Sinful Needs – Kali Bento Tongue [New]
Collar: Random.Matter – Do not feed [New][@ N21]
Earrings: [Bubble] – Hoop Earrings set v2 [New]
Scars: Cureless – Branded Rose v1